Background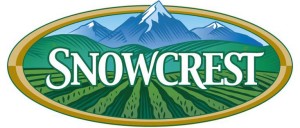 Snowcrest Foods Ltd.started its journey in Haney, British Columbia, Canada, as Snowcrest Packers. Since its inception in 1959, Snowcrest has maintained its commitment to identifying needs, creating innovative solutions, and developing long term business partnerships from the field to just before it gets to your plate.
Highlights:
> Strategic Brand Marketing Plan
> Brand Roadmap + Motto Websites Development
> Food Package Brand Design
> Food Photography
> Advertising and Marketing
> Social Media Branding and Training
> Social Media Protocol + Strategy
> Agency of Record
Download / View
Challenge
To accommodate its growing B2C target marketing and B2B relationships, BC's own Snowcrest Foods Ltd. selected Vancouver's ISI to re-ignite their brand marketing strategy and their point-of-purchase packaging. The collaboration commenced with in-depth brainstorming sessions involving the Snowcrest teams from across Canada and USA. The discovery sessions included:
– Reviewing key research from past successes
– Distilling the company's competitive advantages to specific target audiences
– Analyzing competition in multiple target markets (locally and nationally)
– Identifying multiple brand distributions channels within the food service industry
– Developing a Brand Strategy, Marketing Plan and Design Program for implementation
Testimonial
"Thank you ISI for always being creative with all the work that was done to help rebrand Snowcrest Foods Ltd. Both Garrett and his team were able to successfully meet our needs with positive energy and creativity. Your ability to hone in on and capture the key elements is commendable." 
Ray Biln,

President
Solution
The close collaboration resulted in the creation of a new primary brand message for Snowcrest Foods Ltd: Working Together, Growing Opportunities. The secondary brand messages of the BC Frozen Fruit producers and distributors for their B2C market became From Our Field to Your Plate, and for their B2B market, Fresh Frozen, Quality Assured. Snowcrest's newly crafted brand marketing materials (traditional and online) were launched in stages during the Summer/Fall of 2012.
ISI brand designed, translated and produced seven highly stylized and picturesque frozen fruit package designs which had a press-run of over half a million pouches in the first-run. Locally, the nature inspired (field-to-plate concept) SUP (Stand Up Pouch) are now prominently featured in over 29 Thrifty Foods stores in the British Columbia lower mainland and on Vancouver Island. To accompany the upscale packaging, ISI and Snowcrest launched a rebranded website, a social media program, and a summer advertising campaign called "It's Smoothie-Time".
Working as Snowcrest's brand marketing agency, the ISI collaboration continued with the introduction of two new package and box designs (Blueberries and Pomegranates) for Costco Foods. The teams worked closely with the buyer from Costco to create an optimum purchasing experience for its shoppers. The success of the frozen fruit packages with Costco and its customers have solidified Snowcrest Foods at the next level, and completed the first phases of their brand-marketing program.
In 2016; Snowcrest and ISI recently launched a fresh frozen Tropical Green Power Smoothie Pack 1.36 kg into Costco and four new SUPs locally (Sliced Peaches, Blackberries, Dark Sweet Cherries and Raspberries).
Portfolio - Brand Experience